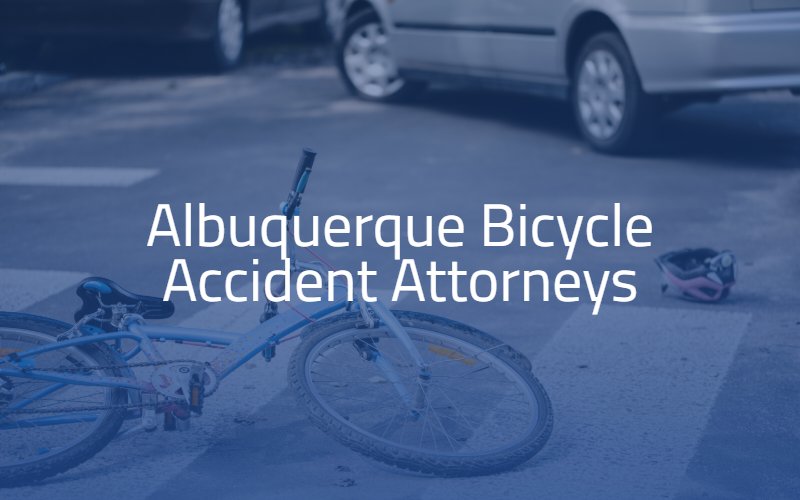 As a bicyclist in Albuquerque, it is critical to put safety first. Obey traffic laws, pay attention to the road, and wear a helmet to help prevent bicycle accident injuries. Even the most prudent bicyclist, however, is powerless to control the negligence of others. In 2018 alone, 366 bicycle accidents were reported in New Mexico. These accidents caused 174 minor injuries, 18 serious injuries, and 11 deaths. If you have been injured in a bicycle accident, contact our experienced Albuquerque bicycle accident lawyers now for a free consultation.
Distracted, drunk, negligent, and reckless drivers often cause bicycle accidents in Albuquerque. If you were injured in a bicycle accident, contact us at (505) 373-3333 24/7 for a free consultation. Our Albuquerque personal injury lawyers can help you bring a claim against a negligent at-fault party.
Why Choose Our Albuquerque Bicycle Accident Attorneys?
Our Albuquerque bicycle accident lawyers are passionate about protecting vulnerable road users in the greater Albuquerque area, mainly from Los Lunas/Belen on the south end to Rio Rancho on the north end.
Our Albuquerque personal injury attorneys have been serving clients throughout New Mexico for more than 10 years. In that time, we have acquired a reputation in our community for excellent customer service.
Our law firm prioritizes your financial outcome over ours. We never charge more in fees than a client will recover after fees, costs and medical expenses have been deducted.
Albuquerque Bicycle Laws
Cycling in the City of Albuquerque requires at least a basic knowledge of the city's bicycle laws. Otherwise, you could break a rule and put yourself at risk of getting into an accident. Knowing the city's bicycle laws can also help you recognize when a motor vehicle driver has breached your rights and negligently put your life at risk.
Bicyclists cannot ride against traffic. They should ride in the rightmost lane available.
Bicyclists must follow traffic laws. They must stop completely at red lights and stop signs.
Bicyclists cannot ride on sidewalks in downtown Albuquerque. They may use a bike or traffic lane.
All bicycles must contain working brakes, handlebars, and seats.
Bicycles must have headlights and rear reflectors if ridden at night.
Bicyclists cannot ride while impaired by drugs or alcohol.
Motorists must give at least three feet of space to bicyclists.
Motorists should not pass too closely or tailgate bikers.
Motorists should yield the right-of-way to bicyclists as they would to other road users.
If you feel that a motor vehicle driver infringed upon your rights as a bicyclist in Albuquerque at the time of your accident, discuss your collision with ann experienced Albuquerque car accident attorney from Ring Jimenez, P.C. We can return to the scene of your accident, work with investigators, review your accident report and take other steps to determine causation. If we agree that a driver was negligent or reckless, our bicycle accident lawyers can help you go up against him or her in pursuit of compensation.
How Long Do I Have To File a Bicycle Accident Claim?
The State of New Mexico limits the amount of time claimants have to file personal injury and bicycle accident claims. This limit is called a statute of limitations. In New Mexico, you only have three years from the date of your accident to file a personal injury civil claim, in most cases. If you are bringing a suit against a government entity, however, you may only have two years from the date of your bicycle accident to file.
Act Quickly After a Bicycle Accident in Albuquerque
At Ring Jimenez, P.C., we recommend prompt legal action to all our clients. Acting quickly can ensure the preservation of key evidence, such as photographs from the scene of your bicycle accident. Do not wait to contact us after your collision in Albuquerque.
Contact Our Albuquerque Bike Accident Lawyers 24/7
You have rights as the victim of a bicycle accident in Albuquerque, New Mexico. We can help you protect and exercise them when going up against a negligent driver, the city government, or another party. We may be able to obtain financial compensation for your losses on your behalf. A successful claim could pay for your medical expenses, lost wages, and many other damages. Discuss your recent bicycle accident with our local Albuquerque lawyers today. Call (505) 373-3333 or contact us online for a free consultation.